ONTOSWAP will be launched in three steps. Version 1.0 will be launched at the very beginning of next month together with liquidity mining after the start of token sales. Versions 2.0 and 3.0 will go live later.
At the time of the rapid changes in the fintech sector, more and more new DeFi (decentralized finance) projects have been emerging lately. But with their novelty, most of the projects still have weaknesses like slow speed, low usability and high cost, centralization, lack of cross-chain support, absence of order books, imperfect DAO mechanisms, etc. Here we'll have a look at one that aims to solve the existing issues in the DeFi sector. Meet ONTOSWAP, the first-ever cross-chain decentralized exchange that promises to handle the issues mentioned and provide attractive benefits for its clients.
The First Cross-Chain Swap on Ontology
ONTOSWAP is the first-ever cross-chain swap based on Ontology, a high-performance public blockchain infrastructure that can be customized for different apps. ONTOSWAP positions itself as a fully functional decentralized exchange that offers numerous benefits to its customers.
Firstly, ONTOSWAP will support cross-chain swaps to exchange assets between chains, allowing easy margin positions in DeFi on synthetic assets. Secondly, the exchange will have a decentralized automated full limit order book. This means traders will be able not only to control their orders but also to submit them with directions, prices, sizes, etc.
Further, ONTOSWAP will handle the scalability issue due to enhanced Level 2 scalability and undertake more transactions than existing decentralized exchanges.
Besides, ONTOSWAP will be the first decentralized exchange with a complete referral program.
We can easily compare ONTOSWAP with other similar platforms. For example, it is cheaper and faster than SushiSwap and Uniswap. Moreover, it offers some features and possibilities that are not provided by its rival. This list includes, for example, stablecoin mining, participation in referral programs and the opportunity to get transaction mining rewards. More advantages of ONTOSWAP are presented in the table below.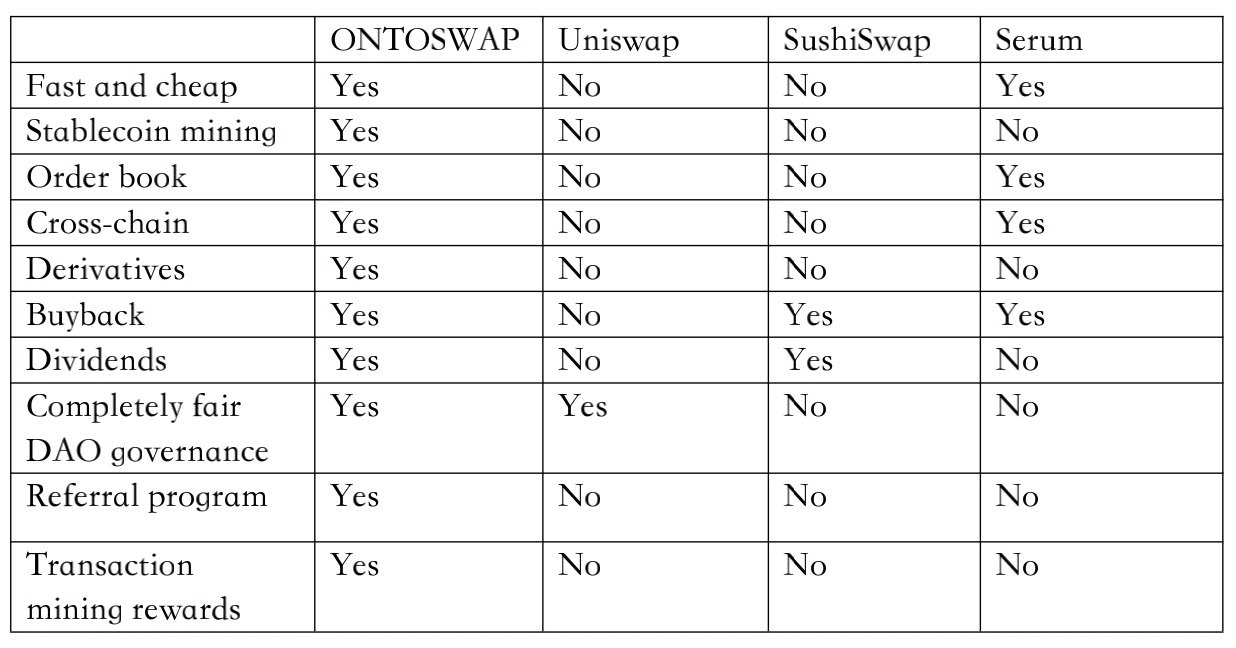 ONTOSWAP's Dual Token Mechanism
The exchange will have a dual token mechanism. In other words, it will issue two kinds of tokens: ONTOSWAP (ONTO) token and ONTOSWAP DAO (YFO) token.
ONTO tokens have a fixed 1 billion supply. They will be distributed between the team and advisors (10%), locked seed purchases (10%), and ecosystem incentive fund (80%). 50% of net profits will go to ONTO buyback and burn, ONTO holders will get another 50% as a reward. Notably, the latter will be able to enjoy a 50% discount off all fees.
As for YFO tokens, they will be earned through providing liquidity to the pools. Using YFO, users can mine ONTO tokens. Other YFO features include governance frameworks, fee allocations, value-added incentives, pool additions and amendments, as well as protocol economics.
ONTOSWAP's Experienced Team
The exchange's team includes technology and finance professionals. Its CEO and founder Patrick Gallego is a cybersecurity expert famous for working with software development and taking on ventures in Ireland.
ONTOSWAP co-founder and COO, Adrian Lismore, applies his finance expertise by issuing operational and financial advice to the team. He also has a solid background in the entertainment market industry, which will help ONTOSWAP build strong public relations.
David Cyrus, ONTOSWAP CTO, has over 15 years of experience in the analysis, design, development, and maintenance of software within a wide range of systems.
Empower Ontology's DeFi ecosystem
ONTOSWAP will launch in three steps. Version 1.0 will launch at the very beginning of next month, with the start of token sales. Versions 2.0 and 3.0 will launch later. According to the developers, ONTOSWAP v3.0 will be a fully cross-chain decentralized exchange with ONT/USDT, ONG/USDT and NEO/USDT mining pools to empower the Ontology's DeFi ecosystem. Digital assets on chains joining ONTOSWAP for swaps will significantly support the platform's development. Moreover, it is expected that later ONTOSWAP will be combined with a number of other popular DeFi apps that today are a part of Ontology's ecosystem, such as Wing and other apps.